"Hello Ladies…" A friend sent this recent viral video for the BYU Howard B Lee Library over and I was amazed at how good it was. The video was based on the current Old Spice commercials, "Man Your Man Could Smell Like." Amazingly, the BYU spoof video garnered over 1.2 million views in four days. If you haven't seen it, you are in for a treat!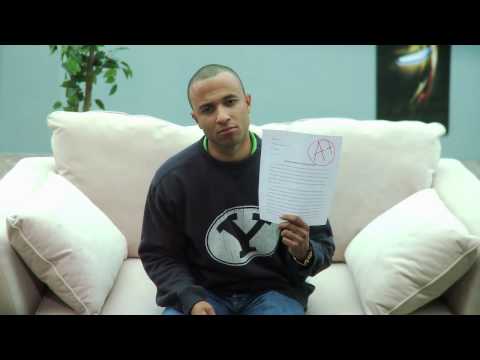 My friend Rory cued me in on an amazing poster artist who is doing Book of Mormon posters and Bible posters. I grabbed a few screen shots and put them below to show you some of my favorites. Frankly, I think this is some of the best commercial work I have seen come out of the LDS community in a long time.
I personally like how the artist has captured a popular style of art among teenagers and put a fantastic gospel spin on it. Normally, you see this type of art associated with video games and roll playing games. It's nice to see such a unique and intriguing style used for gospel purposes.
I also like his strong depictions of women in the scriptures. I don't think I have seen a painting or image done on the women in Lehi's camp. Well done! ~Paul W.
Thanks Tyler for sending this my way.
The language appears to be Russian, though it could also be Ukrainian or one of the other languages of that family. Talk about using your talents to share the Gospel of Jesus Christ! These drawings are phenomenal!! Way to go Elders!
11/30/2009 UPDATE
Shannon, one of our readers, had a friends translate the Elder's sidewalk art and sent it over:
This is neat. It's Russian; the verses next to the drawing of the temple are excerpts from 3 Nephi 11:7–11. At the bottom it says: "From the Book of Mormon: A New Testament of Jesus Christ, about 34 A.D." Under the Greek key design it directs those who have questions to a web site.

The last picture is titled, not surprisingly, 'Lehi's Dream.'"
Also, Shannon's friend further asked:
"The artwork is quite amazing, and I am extremely curious where they are. Do you know the original source? I can't think of any place in my mission where it would have been well received to produce such a display in a public place, but that was 15 years ago. Or maybe they're in a smaller town than St. Petersburg."
If anyone knows the answers please feel free to leave a comment or email Shannon directly (her email is in the comments section of this post). Thanks Shannon!